Subject: Spring Update 2015
| | |
| --- | --- |
| | Spring Update, March 2015 |
We enjoyed a visit from Olivia Matthews. We also enjoyed the chocolate from Australia!
Update on Voice Problems
Thanks for praying. My voice is stronger, and we have isolated a problem. A CT Scan revealed a cyst in my right maxillary sinus, where I have had problems in the past, requiring a couple of surgeries over the years. Time for another surgery! Nothing urgent, so it will likely be scheduled when much of the upcoming travel is completed. Thankfully, my vocal cords are not damaged, and a new management regimen is helping.
Upcoming Ministry
Progress on Becky's book continues. As you can imagine, organizing all the material and fact checking the timeline is a tedious process. Not having Brenda to provide details which only she would remember is a factor, but we have lots of resources to research the necessary information. Becky and I have had many ministry opportunities together since our update in the fall with many more coming up. In fact, this week we minister in Virginia. En route we will speak for Pastor Chuck Woodruff atCatabawa Springs in Apex, NC, then travel on to Virginia Beach where I will make an Endorser visit with FBFI Navy chaplain Plais Hoyle to the well-known USS Cole (which was attacked by al-Qaeda in October 2000).
Sarah Mac with us at our family reunion last year
On Saturday
, Becky is the speaker for the annual Ladies Day at
Tabernacle Baptist
. I will speak in
Sunday
services there, before returning home
on Monday
. Of course, we will have lots of time with my granddaughter, Sarah, who graduates from high school in June. Happily, the
FBFI Annual Fellowship
will be held at
Good News Baptist
in Chesapeake the very week of Sarah's graduation. She will be the first of her generation in college this year and has been accepted to nearby George Mason University. But before we go to Virginia again in June, Becky and I will have a long trip to the Far East. We leave for Singapore on
May 23
. We both speak in the
Pacific Rim FBFI
there, then I will conduct three days of counseling training with pastors while Becky conducts a three day ladies conference. After a few days of rest, we will both participate in a five day family camp run by
Grace Baptist Ministries
,
before returning home on
June 10
(the week before the FBFI Annual Fellowship). Anyone who would like to help with funds for Becky's Singapore trip may send them to
JCVEA
or to
Faith Baptist Church
designated for her. Please pray that the Lord will use both of us and that she will be able to recover quickly from the very long flights.
My son John treated us to a Segway Tour, November 2014
Recent Ministry and Family Events
November was filled with desk work: phone calls, e-mails, and writing. My daughter, Debbie, and family came and joined our local family members for Thanksgiving. December was also spent nearby with the family coming in for Christmas.
Jack working on school
Part of the Vaughn family
Sadness but peace at
Caleb's homegoing
In December, my daughter-in-law Kimberly (Joe's wife), developed some problems with her pregnancy, and she was admitted to the hospital in early January where she was to remain until the baby, Joseph Caleb, was due in April. She rested and managed to home school Jack from her hospital room until the baby arrived suddenly on February 6 (our late son Daniel's birthday). Little Caleb struggled in PICU until an infection set in and the Lord took him home. His brief earthly ministry finished in just one week. Joe and Kimberly were very strong throughout the ordeal and their testimony impacted our entire church and many beyond. Both they and Jack are doing well and resting in the Lord's comfort and hope.
ABC Daycare
In our last update, we mentioned the opportunity for Becky to speak to the families of the ABC Daycare Fire in Hermosillo, Mexico, in January. We flew into Tucson and ministered at Continental Baptist on

January 12

, then rode to Hermosillo with the Dan Wokaty family. Becky spoke that week in the elementary school, high school, and college associated with Emmanuel Baptist Church, and I recorded a video of a block class for Instituto Practico Ebenezer (IPE). Two evening services were dedicated to the families of the children from the Daycare, and on both nights there were over 400 in attendance. We know of at least one salvation and many other decisions were made. Becky fell in love with the children in the schools there and the wonderful local tacos and hot dogs. Seriously, a quick online search will link you to thousands of sites about Hermosillo hot dogs. You can read about them here, but you will have to go there to taste them!
Elementary school students at Emmanuel Baptist Church's school
Becky speaking to the Bible college students
in Hermosillo
The Dan Wokaty Family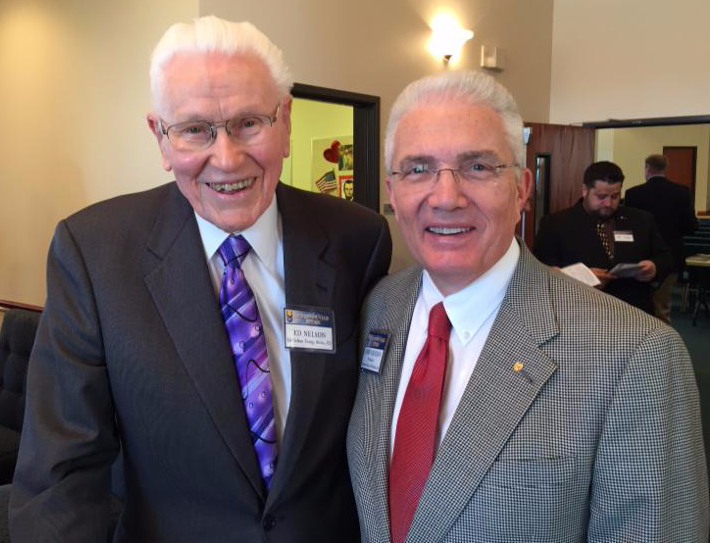 Dr. Ed Nelson in Greeley, CO
When we returned to Arizona, we spoke atWest Pointe Baptist

on Sunday

morning,

January 18

, and Berean Baptist that evening. The first of February, I traveled to Greeley, CO, to speak at Westside Baptist wi
th Chaplain Joe Willis, then to speak in the FBFI Rocky Mountain Regional Fellowship hosted by Dan Unruh.
Later in February, I went back to the West to be with Pastor Ron Perry, who grew up at Faith Baptist Church in Taylors. He asked me to speak at a men's retreat held at Wolf Mountain Camp, where we had lots of fun shooting,
and also

Sunday

morning services at Faith Baptist Church of Folsom.
I had a jump on spring there enjoying some beautiful weather and early blooming trees (see header). Sadly for California, that beautiful February weather is a looming disaster for their crops as they enter the fourth year of one of the worst droughts on record.

On Sunday

evening, I preached at Faith Baptist Tabernacle for BJU classmate Mike Rogers, with whom I share the fond memories of being US Air Force aircraft crew chiefs.
Shooting range at Wolf Mountain
The Ron Perry Family
Becky's birthday meal
Getting back from California, I arrived just in time to fulfill my teaching responsibilities in a block class on the Pastor's Personal Life and Development at BJU the last week of February. I spent a week in early March at the "coast." (Remember, Ron Perry's father, Rob, my long-time deacon chairman, humorously says, "We don't go to the 'beach; we go to the 'coast.'") We celebrated Becky's final birthday on the 14th with a special meal out at a very fancy restaurant. It is "final" because henceforth, she will just be celebrating the anniversaries of this one,
as Ronald Reagan did
. On March 16-18 we enjoyed another great FBFI South Regional Fellowship at the Wilds, where, as always, our hosts were exemplary, the weather was perfect, and the fellowship was incredibly refreshing. You should have been there!
Chuck and Linda Woodruff at the FBFI South Regional
FBFI South Regional at the Wilds, NC
Craig Hartman and me,
Israel Pastors' Tour 2014
Pastors' Tour to Israel, January 2016
Important: There are a few openings for the January 2016 Pastors' Tour to Israel. A few have told us that they would just wait for the 2018 Tour; but frankly, we do not know if there will be a 2018 Tour. It is becoming more difficult to get enough participants to continue this incredible opportunity, so don't wait. If you are ordained and you want to go to Israel, now is the time to get in touch with us.
Thank you, Thank you, Thank you!


So, again, we say "thank you" for your support, your prayers, your friendship and your faithful encouragement to Becky and me as we soldier on for the Lord. Speaking of soldiering, we will no doubt be re-enlisting, since we are receiving an increasing number of invitations for the coming months into next year. Becky keeps me posted on what the grandchildren are posting on Facebook, and I have recently been "connecting" with colleagues on Linkedin. Joy maintains a Facebook page for JCVEA, so you can "like us," or "whatever" as they say. I actually posted nine "tweets" (@DrJohnCVaughn) making progress in the technology learning curve.

Love and prayers,

John Vaughn and Becky